Operating for over 20 years, All Care Pest Control & Termites have extensive experience in providing termite inspections, termite treatment and termite control measures to our Gold Coast customers. We can inspect your property for termite activity and then provide treatment options to control and eradicate termites.
Termite Inspections
Regular inspections are the best way to protect yourself and in some situations this will allow you to identify any potential problems before they occur. Termites are quite common on the Gold Coast due to its tropical climate.
If you suspect termite activity we can inspect your property to identify where the termites are located, how they are accessing your property and the likely source of their nests.
Termite Treatment & Control Options
If termites are found in your house or unit your termite specialist should be able to recommend a number of options.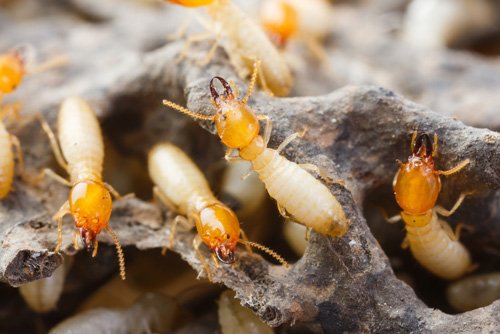 There are two aspects to termite control – the first are measures to destroy the termite nest that is attacking your house and the second are measures to protect the house from future termite attack.
Nest Control Measures
Dusting the live termites with Termidor Termite Dust is often very effective as the termites themselves take the product back to the nest when over a number of weeks it can be destroyed even if it's more than 50 metres away.
Applying small bait stations over the termite activity in the house is often done to draw the termites into the bait matrix which they will eat and then transfer back to the nest and other termites in the colony, ultimately destroying it.
Protection Measures
The installation of termite baiting programs in which small plastic stations are located in the areas surrounding the house are often used to monitor termite activity in the immediate area and also to provide the opportunity to bait any termites that happen to enter one of the stations (again the product is taken back to destroy the nest).
The installation of a soil barrier using Termidor liquid can provide long-term control for up to 8 years. This will involve the drilling of paths and driveways around the house and trenching the soil against the walls to apply the product.
Sometimes your termite specialist will recommend doing both the nest control measure and a protection measure however this can depend on what you, the client, decide to do. Depending on your budget or other factors you may decide only to have the nest control measure done however if you want longer term protection, these measures are also available. All Care Pest Control will make sure you have all of the necessary information to help you make an informed decision.
Need More Info?
Contact Us on (07) 5574 0269 or make an online enquiry.
Termites (or "White Ants")
We tend to separate termites into a category all of their own because of the devastation they can cause to our homes and businesses. Termites can cause extensive damage to property and do so alarming quickly. Termites are sometimes incorrectly referred to as 'white ants' (although they are not an ant) because they are pale in appearance and they're very commonly found throughout the Gold Coast due to our warm tropical climate.
Chances of termite activity can increase due to wood being left laying around the property – termites may eat old stumps, piles of fence palings or timber stacks, garden decorations such as sleepers etc.
Whilst their are treated timbers available this is no guarantee that termites will resist the urge to eat the timber. Many people believe hardwood frames are termite safe and whilst they're less appealing than non-hardwood termites will still eat into hardwood if the conditions are right to do so.
Termites are attracted to water, so the home owner should fix any leaking pipes, drains, sinks, showers etc. Even the drain that runs from air-conditioning units can attract termites.
Termites can gain access to structures via cracks in the concrete slab, or in some cases when timber meets the ground.